Providing Affordable Housing for Orlando, Florida
Established in 1938, the Orlando Housing Authority (OHA) is an independent public corporation, funded primarily by the United States Department of Housing and Urban Development (HUD). OHA is governed by a seven-member Board of Commissioners appointed by the Mayor of the City of Orlando. It is managed by a President/CEO. OHA is not a city Agency. OHA has been a Move To Work (MTW) agency since 2011.
Orlando Housing Authority operates with three primary goals:
To assist low income individuals, families and the elderly by providing rental housing units in either the public housing or private housing markets through Section 8 Housing Choice Vouchers (HCV), Single Room Occupancy (SRO) and Public Housing;
To manage and maintain its housing and each community's public space; and
To provide residents with programs and opportunities that promote social and economic enrichment including Move To Work (MTW).
OHA is committed to ensuring that persons with disabilities have equal access to OHA forms, notices, resources and services. If the format of any material/content on this website interferes with your ability to access information, please click here to visit our website accessibility page.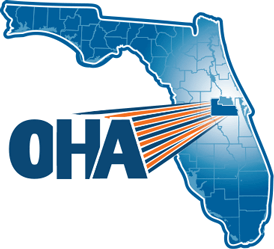 Serving the Florida Cities of
Orlando & Sanford